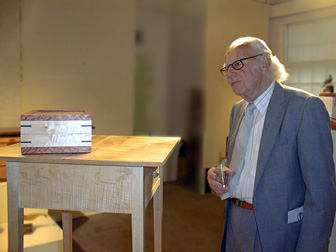 Tables, boxes, bowls, marquetry, sculpture, chairs, carving... With wood artists create singular objects of beauty and utility. From time to time we'll feature plans, tool reviews, and discussions of work in progress.
To submit work, please see our guidelines.

Featured artist: Dawn Epstein's boxes, charkas and small furnishings.

Click here for a lathe stand plan.

Click here for a wide, casual chair "plan".

This month's Best of Class features links to a variety of schools with excellent woodworking programs & workshops.